For this Supernatural Friday, I decided to do eleven spooky reads perfect for October and Halloween. Not to say, they aren't wonderful, to read any other time. There are more creepy novels and short stories I can tell you about, but then that might go into the hundreds. Instead, I feel these eleven will be a great start for you. Plus at the end, there is a link for my own scary ghost story that made the top seven stories for Small Press Award 2013. Now get reading!
1.
The Haunting of Hill House by Shirley Jackson (It's not Halloween without a great, scary ghost story. This is the only novel to scare me during the daytime, in a room full of middle school student. My parents landlady had given this book and Jackson's We Have Always Lived in the Castle (another good read), so after getting my work in class done early the teacher said I could read my book, so I did. The scene I read freaked me out.)
2.
The Wolfen by Whitley Strieber (A werewolf horror novel, but where the werewolves are shifters, but a race living alongside humans since prehistoric times.

Though no longer in print (you can find it used—I did—it is available of Kindle and Nook.
Book blurb: In the dark, they are watching...
They are waiting for you. No one has ever lived to tell the horrifying truth about them. Yet even now the Wolfen are gathered in the night-dark alleys ... unseen, poised ... ready to destroy their helpless human prey. Only one man and one woman, trained cops, willing to risk their lives, stand in the way.)
3. Bad Wolf by Tim McGregor (I got this free on Kindle—which I see it is again—and though self-published, it was good. Enough for me to buy the second two in the Bad Wolf Chronicles trilogy.
Book blurb: Detective Lara Mendes's hard work finally pays off

when she gets the chance to join the homicide detail. There's only one catch; she has to partner up with a cop no one wants to work with.

John Gallagher is a veteran homicide detective who loves stomping bad guys and hates partners. When the Lieutenant saddles him with this green kid named Mendes, his first reaction is to ditch her but a call comes in about a body on the river bank and the rotation says they're up.

What they find are human remains, mutilated and partially devoured. Their investigation reveals a killer stalking the city with a pack of vicious, feral dogs.
And the suspect believes he is a werewolf.

But this is Portland, where crazy bastards outnumber normal ones ten to one. Except there's another catch. The crazy werewolf guy? He isn't crazy...
5.
Hell House by Richard Matheson (You think it was Hill House again, but it is not. What really haunts Hell House?
6.
"The Monkey's Paw" by W.W. Jacobs (Not a novel, but a very, scary ghost story. Remember that motto, "Be careful what you wish for?" as this story fits it so well. Sometimes the dead should remain dead.) The Monkey's Paw," one of the most bone-chilling and frequently anthologized stories of all time. Readers will find it difficult to believe that W(illiam) W(ymark) Jacobs (1863-1943) gained his fame as a writer of humorous tales, as there is no hilarity to be found here. It has been adapted relentlessly: for radio, as a 1907 play, motion pictures (several silent films as well as a 1933 talkie and a 1948 remake), for television as episodes of Suspense, Great Ghost Tales, The Alfred Hitchcock Hour, and Great Mysteries, and for three operas. "The Monkey's Paw" was first published in the September 1902 issue of Harper's Monthly; it was collected in The Lady of the Barge (London, Harper, 1902). You can read it

here

for free.
7.
All of H.P. Lovecraft's stories and novels (Something about the Old Ones that can creep to a person, don't you agree?)
8.
Salem
's Lot and It by Stephen King (I compiled these two together, as both scared me when I read both books alone in my bedroom, just before bedtime. )
9.
Something Wicked This Way Comes by Ray Bradbury (I love all of Ray Bradbury's works, but this one is a great favorite of mine.
Few American novels written this century have endured in th heart and mind as has this one-Ray Bradbury's incomparable masterwork of the dark fantastic. A carnival rolls in sometime after the midnight hour on a chill Midwestern October eve, ushering in Halloween a week before its time. A calliope's shrill siren song beckons to all with a seductive promise of dreams and youth regained. In this season of dying, Cooger & Dark's Pandemonium Shadow Show has come to Green Town, Illinois, to destroy every life touched by its strange and sinister.
10.
Rosemary's Baby by Ira Levin (Got to have one demon or Devil story with witches to read for Halloween. Forget The Exorcist—that bored me—but this one stuck in my mind for years.
11.
Complete Tales and Poems by Edgar Allan Poe (You thought I would forget him? Heck, no! He's is perfect for this time of the year.)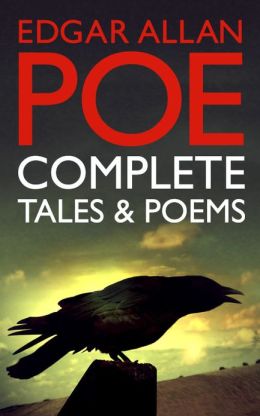 Now read my fictional ghost story,

Bottled Spirits

at BuzzyMag.com for free.